CAIXA CULTURAL SÃO PAULO RECEIVES VIRGINIA RODRIGUES
08/11/2018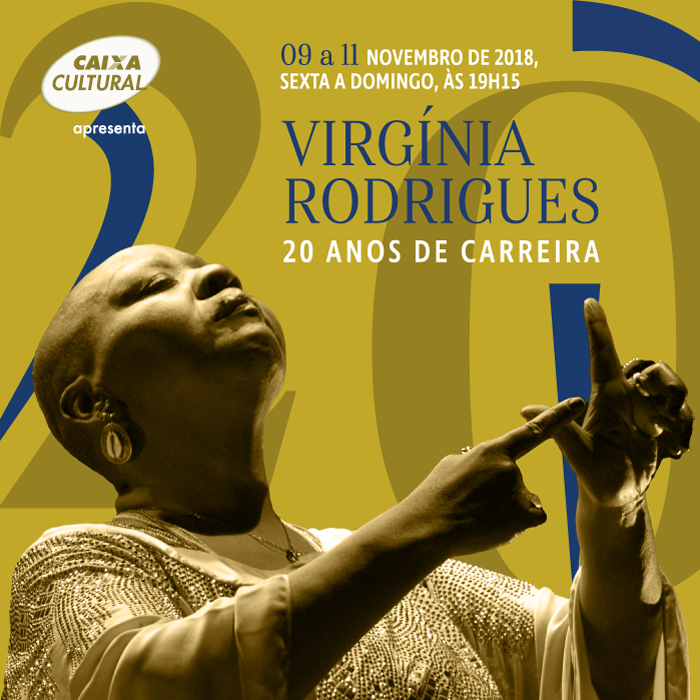 Celebrating 20 years of her career, the Bahian singer plays her greatest hits
CAIXA Cultural presents, from November 9 to 11, the singer Virgínia Rodrigues. A Bahian speaking of her people and her religion to the world.
With unparalleled musical sophistication, allied with the stripping and intense stage energy, Virgínia Rodrigues thrilled the audience with its powerful and velvety singing.
The heavenly song of Virginia transits between the popular and the erudite. It was discovered in 1997 by Márcio Meirelles of the Olodum Theater Band. And it was in a plays that Caetano Veloso saw her for the first time and Virginia was sent from Salvador to the world.
The story of the singer from Bahia was so well-known internationally that the American journalists nicknamed her "Brazilian Cinderella". After the release of her first album, "Sol Negro" (1997), Virginia made two US and European tours. The album produced by Celso Fonseca counted with the participation of Gilberto Gil, Milton Nascimento, Djavan and received excellent reviews in the national and international press.
In "Nós" (2000), with artistic production of Caetano Veloso, Virginia honors the afro blocks of Salvador. The partnership with Caetano continued in his third album, "Mares Profundos", released simultaneously in Europe by Edge label of Deutsche Grammophon in 2004.
In 2008, he released the album "Recomeço", camerístico climatic album with classics of the Brazilian songbook.
In 2015, Virginia released her fifth work, "Mama Kalunga," a reverence for African matrices and their resonances in the black diaspora, with artistic direction by Tiganá Santana and musical direction by Sebastian Notini. The album was nominated for best album and Virginia won the award for best singer at the 27th Brazilian Music Award.
Currently the singer prepares her new album "Every Voice is a Woman", where she dialogues with lusophone composers from Brazil, Mozambique, Angola, Guinea Bissau and Cape Verde. The album will be released in 2019, sponsored by Natura Musical and will generate a live DVD, produced in partnership with Canal Brasil.
Always accompanied by excellent musicians, the Bahian singer will share the stage with Bernardo Bosisio and Leonardo Mendes on guitars, Marco Lobo and Sebastian Notini on percussion and Iura Ranevsky on cello.
Enviar feedback
Histórico
Salvas
Comunidade